I thought that I'd write a quick post here. It's been so long!
.
Frankly, I only have so much time to devote to my "music hobby", and I've been using that time for other things. I've been doing a lot of concerts (well, a lot for me), and they have been with various themes and set lists. I've also been writing new material, and I am excited to announce that I plan to record again in June. I've got my flight booked for June 28th, and I will record 3 of my songs on June 29th and 30th. It will be a brief trip, but hopefully productive. 
.
I might be a little early going into the studio again, but I thought that it would be fun to work in tandem with my friend, Wade Talley, who will be recording his second album in May. I thought that it would be fun for us to do a few songs on each other's albums. We have had a lot of fun doing concerts together, so we thought that it would be nice to have some material that we have recorded together. Now, due to the magic of modern recording, we will not actually be in the studio together at the same time, but we plan to be in close contact during each of our sessions (texts, e-mail, etc.).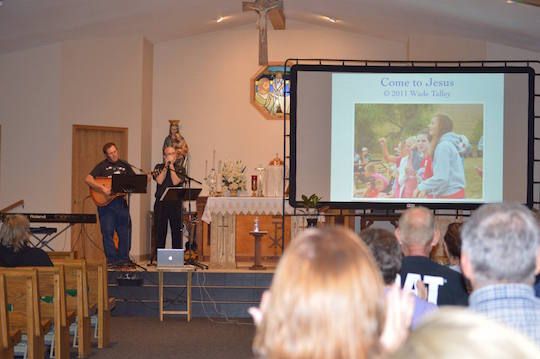 Wade and I at a performance in Wetmore, KS
I plan to play harmonica on a couple of his songs, and perhaps sing on a song or two. We will see how his session goes in May, and I'm sure he and the producer, David C. Smith, will have a clearer idea of what my role might be after that.
.
As for me, I plan to record "Love Means Sacrifice", "Vain", and "No Hay Otra Manera". My hope is that these songs will be part of an upcoming album, but I will need additional funding if that will be possible. I am looking at doing another Kickstarter campaign later in the year. All three of these songs have been "concert-tested", and they seem to have been well-received. I think that they are very much ready for the "professional treatment". "No Hay Otra Manera" is the first song that I have written in Spanish (the title means "There's No Other Way"), and people have really asked for a recording of that song. "Love Means Sacrifice" and "Vain" have really been fun to play in concert and are a couple of my new favorites (particularly "Love Means Sacrifice").
.
The broader theme I have in mind for the upcoming album is about things that I've learned or said or done over and over again as a pastor. The working title of the album is "Pastor", and I'm very excited about the songs that I've got ready for the album. 
.
More to follow soon, I hope.